The financial technology (fintech) space is constantly evolving, and with that comes the need for an innovative UX/UI design approach. New categories like  Digital Banking, Trading apps, Digital Wallets and AI-driven advisory firms are a subset of the fintech industry. Financial services are being reimagined as digital products and there is no looking back. Here are some of the UX UI design trends in fintech space to keep an eye on.
The global fintech market is estimated to reach assets under management (AUM) of $1 trillion by 2030, up 10-fold from its 2021 size of roughly $100 billion. At the same time, the industry was expected to generate a revenue of $200 billion – also a 10X jump from 2021's $20 billion, according to a report jointly published by Chiratae Ventures-EY – "$1 trillion India fintech opportunity".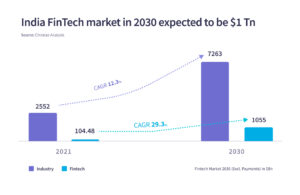 Primarily 4 categories – Payments, Digital lending, Wealth tech, Insurtech, and Neo-banking will drive the growth in the larger fintech space. Backed by favourable demographic dividend, increasing digitization, growing tech adoption, higher disposable incomes, aware customers, improving public infrastructure – India Stack like United Payments interface (UPI) among other factors. MSME will play a key role in the economy.
There is a paradigm shift in the way Indian consumers transact today, smart phones and cheap bandwidth is propelling this behaviour, emerging Digital Financial Services are shaping the future with simple and intuitive products to manage their funds, make payments, trade in equity and buy goods or services.
Fintech by its nature converges well with Prop-tech, Edutech and other Industries going digital. The upside is beyond boundaries. Entrepreneurs understand this fact and are creating Digital products and services to tap on these emerging patterns. New fintech apps are changing how we interact with financial institutions.
The field of UX design faces significant challenges within the FinTech industry. UX UI design trends in fintech space change rapidly, designers working in FinTech must familiarise themselves with varying financial regulations across countries. These regulations are often extensive and detailed, requiring extensive reading before designers can even commence a project.
This article delves into the fundamentals of FinTech product design, offering insights on best practices to ensure user-friendly, compliant products that deliver maximum value to customers.
Whether you're a FinTech startup designing a stock trading app or an established multinational seeking to revolutionise its mobile banking app, silverscoop offers a comprehensive design service that encompasses the entire design process.


1. Stick to the rules
Understanding the regulatory compliance while designing for one country or the users across the globe is one of the most challenging tasks for designers, each market throws a different level of complexity.
For instance, Know your Customer (KYC) in India has detailed protocols that have a direct impact on the onboarding process and workflows. The regulations throw a bunch of complexities to identify the user being onboarded. These laws and regulations are dynamic and change with time. For example, the new RBI guidelines on recurring payments outside of India. Although these protocols are critical to prevent frauds, improve privacy and accessibility.
UX Designers must be well aware of these compliances in order to minimise iterations and shorten the 'time to market'. They are expected to know the latest UX UI design trends in fintech space to deliver relevant experience without losing time to figure out the nuances while designing the app.
2. Hit or miss onboarding opportunity
The attention span is lowering, and therefore the first few minutes of using an app has a significant impact on repeat usage. The user engagement with the platform is uncertain, until they find a hook, and in most cases it is a simplified online experience.

Usability should be the top priority for fintech firms looking to get a bigger share in the digital finance market. Failure to deliver a smooth sign-up and onboarding experience puts them at risk of losing customers from the very beginning.
3. Frictionless journeys
The first few minutes of using a new app are always critical. Will the user take to it enough to keep using it? If not, you can expect the app to be used once and then completely forgotten. Usability should be front of mind for fintech companies looking to capture the digital finance

4. Make it Funtech

Let's face it, Managing finance is not the most exciting or fun activity. It's cumbersome and sometimes puts a load on cognitive abilities. Gamifying this experience can make it less boring and promote positive financial behaviour.

SMART Goals and scoring mechanisms can make the whole investing experience enjoyable with milestones and badges to win along the journey. These little moments of joy make all the difference in a typically mundane day of a working professional.

Architecting the experience into multi-level framework of meaningful achievements and accomplishments can be rewarding in many ways.
5. Strike a balance
The challenge is to make it fun yet keep it clean and trustable. Keep the users engaged along with the value the platform offers in terms of the financial well-being of the individual. Design for a wide range of user types from an average investor to a financial executive. All of this, without compromising on compliances and security of the funds. This is where understanding UX UI design trends in fintech space from a legal standpoint becomes all the more important.
6. Completely Digitised
Translating the offline banking behavioural patterns on an online environment is part of the fintech revolution. It is becoming increasingly difficult to visit bank branches for transactions and related formalities.


Emerging fintech platforms like revolut ensure seamless experiences online within a secured ecosystem. Minimising bureaucracy and simplifying the overall banking experience on your fingertips.
7. Humanising the language
Financial jargon sometimes can be a blocking stone to use fintech products. It could be intimidating for some users and result in dropouts.
Keeping the terminology clearly understandable by the vast majority can be a big plus. Except for some unavoidable terms without which the meaning could completely change or be misinterpreted. Use tooltips to explain such terms. Avoid acronyms.
Some words like Derivatives, Hedging, Yield Curve can be replaced with simpler terms like financial instruments, portfolio protection, and interest rate (returns on investments) on maturity.
Conclusion: UX UI design trends in fintech space is ever evolving 
Fintech may pose many obstacles for designers and developers. But it is booming and disrupting traditional banks and NBFCs on various aspects of their business from lending to wealth management. 
The trends, patterns and reports clearly indicate the importance of taking up the challenge. If your business needs UX Design for a banking app, reach out to us.
Read this article for more details on Latest UX/UI design trends.
Also read: Unlocking MarTech Success through UX Design